Message from UQ president, Mr. Akio Nozaka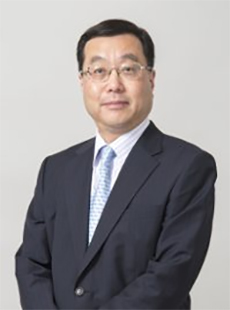 UQ Communications began providing "UQ WiMAX," a high-speed mobile data service in February of 2009. Under the ideals of an "open network" and "open device," we have been a leading presence in the Japanese mobile data communication market.
In October 2013, we launched "WiMAX 2+" which provides a maximum download speed of 220 Mbps. As of now, we hold the number one market share in the high-speed mobile data communication market.
In October 2015, we merged with the UQ mobile smartphone brand KDDI Value Enabler Corporation which started our smartphone business.
While three major cell phone companies lead the industry in the Japanese smartphone market, focus is going to low-Cost SIM cards and smartphones available for reasonable rates. However, not only are low-Cost SIM cards not yet widely accepted by the Japanese public, it is also harder than one would expect to find a smartphone that is perfect for the user's needs and is convenient and reliable.
Starting February 19th, UQ will launch its product "Smart Phone Perfect For You."
In addition to the smart phone, this UQ mobile smart phone package will include only what the customer really needs including a data plan, calling plan, carefully selected apps - all for a reasonable monthly fee.
We will continue to introduce smart phones that make our customers feel like the following:
"Since it's something I use daily I need to choose the right product and be convinced that it was the right choice. I don't need anything more."
"It's nice to have something just right."
From here forward, UQ will leverage its experience in the WiMAX business to expand services that satisfy our customers and surpass what UQ WiMAX and UQ mobile currently provide.
At UQ Communications, we hold our corporate mission of "inspire by connecting" in our hearts to meet the various needs of our customers to be there for them in all situations. We will take "connecting" a step further, into the future. We look forward to providing new values in the field of mobile service.
President
UQ Communications Inc.
August,2016